Tiina LINNAINMAA
2nd Vice President (2019 - 2023)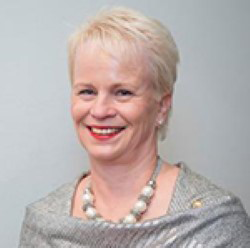 Introduction

Tiina Linnainmaa is an experienced dairy farmer from Finland. Besides relevant on the ground experience, Tiina is also a very active member in the agriculture and agri-cooperative world, both nationally and internationally. She is a Vice Chairman of cooperative service organisation Pellervo, First Vice Chairman of the Federation of Agricultural Producers and Forest Owners MTK and is one of the Vice-Presidents of the European umbrella organisation for agricultural cooperatives Cogeca.
Farm/Cooperative description
Tiina has been a farmer since 1992 and currently runs together with her husband Mr. Risto Linnainmaa the Kauppi dairy farm which has over 70 cows and 60 young cattle and is situated in Hämeenkyrö, Finland.
Career Timeline
2nd Vice President of Cogeca

Member of the Board of Directors - Läni-Maito Cooperative

Member of the Praesidium - Copa-Cogeca

Vice President of the Board of Directors - Pellervo Confederation of Finnish Cooperatives

Member of the Supervisory Board - Läni-Maito Cooperative

1st Vice President of the Member's Council - The Central Union of Agricultural Producers and Forest Owners (MTK)

Member of the Member's Council (MTK)

Member of the Board of Milk Working Group - The Central Union of Agricultural Producers and Forest Owners (MTK)

Member of the Board of Directors (MTK Hämeenkyrö)

Member of the Member's Council (Vice President 2007-2009) - Pellervo Confederation of Finnish Cooperatives

Member of the Rural Advisory Board - Ministry of Agriculture

Member of the Finnish Cooperative Council

Different positions of trust - Maito-Pirkka Cooperative
Other professional responsibilities
President of the Supervisory Board - LocalTapiola Prikanmaan Insurance

Vice President of the Supervisory Board - Pirkanmaan Lähivakuutus Insurance

President of the Member's Council - MELA, the Farmers' Social Insurance Institution

Member of the Board of Directors (Vice President 2010) - Sata-Hämeen Lähivakuutus Insurance
Education
- The National Defence Course - Continuing education, 2 days (2019)
- International Leader Training - PI Leadership Academy (2017)
- The National Defence Course - Pirkanma area, 5 days (2015)
- Business Communication in English - PI Leadership Academy (2009)
- HLJ Trustee and Leadership Training - PI Leadership Academy (2004)
- Bachelor of science in agriculture - Hyvinää Agricultural College (1987)