Bernard ADER
5th Vice President (2019 - 2023)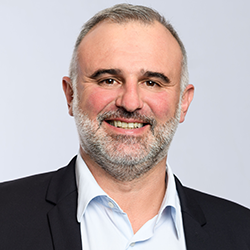 Introduction
Bernard Ader is a French farmer in Saint-Elix-Seglan (Southwest France) specialised in organic cattle breeding and field crop activities using agro-ecological and soil conservation methods (durum wheat, sunflower, sorgo and hard wheat). He is also the President of the European Committee of La Cooperation Agricole, vice-chairman of Euralis co-ops he is President of of agri food division of Euralis, furthermore he oversees training, and group strategic intelligence.
Farm/Cooperative Description
Coming from a generations old farming family, he owns a farm (500 ha) since 1998 with 2 partners. 250 ha are dedicated to conventional field crops (durum wheat, sunflower) and the other 250 ha are dedicated to the organic rearing of Limousine cows (fattening of beef and heifers, supplier of famous butchers and restaurants).
Created in 1936 and based in Southwest of France Euralis co-op is a key player in agriculture and food industrie. The co-op is organised into 4 activities : seed, food, agricultural, and partnership. Euralis, it's : 9000 farmers, 5275 employees, 16 food and seed production sites.
Career Timeline
5th Vice President of Cogeca

2019 - present

Administrator of Coopeval cooperative

Member of several Working Parties - COGECA
Vice-chairman of Euralis In charge of agri food division, training, and group strategic intelligence
Vice-chairman of La Coopération Agricole
President of the European Committee of La Coopération Agricole
Administrator of Euralis Cooperative
Other professional responsibilities
President of Cerfance Haute Garonne

Teacher of BTEC and agronomy at the agricultural high school; Toulouse

Member of the national council of Cerfrance
Education
- Higher Education Diploma in Mathematics and Physics
- BTEC Higher National Diploma in plant protection
- License in crop sicence (1995)